Wednesday, November 1, 2006
Posted by Jason Dunn in "Zune Hardware" @ 01:00 PM
In my eventually-ending quest to find a way to get a Zune as soon as possible after the November 14th date, I've been looking for places that will both carry the Zune, and ship to Canada. There aren't many, but
eCost
is one of them. Here's something strange I noticed though: the prices are different by $29.17 USD based on the colour of Zune you order! Take a look: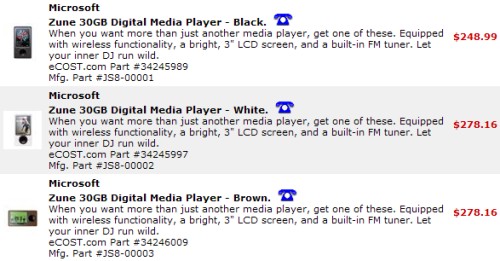 Now I'm all for letting the market decide what works and what doesn't, but I can't fathom the reason why eCost would take this approach when
Amazon.com
is selling all three Zunes for the same amount ($249 USD). What's worse is that eCost isn't even receiving their shipment of Zunes until the 25th of November. Scratch that solution for me!
---