Monday, November 19, 2007
Posted by Adam Krebs in "Zune Accessories" @ 09:30 PM
"This is a continuation of the info I shared the other day, this time I brought my camera into the car to show my setup. Very Nice. I purchased one of these today and I am very impressed. Kind of expensive at $80, but worth it if you can afford it. The above photo shows my Zune 80 in an after market adjustable cradle. This is a great cradle from Akron. I have had it for years through many phones and such."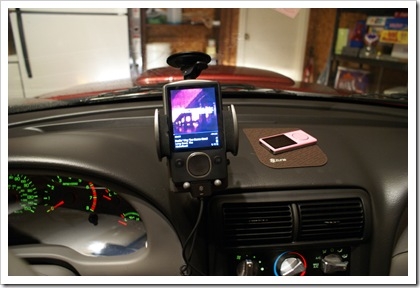 I've used a lot of FM transmitters in my day, and let me tell you: the new Zune version is by far the easiest, best sounding, and, most importantly, static-free that I've used since, well, ever. The new design is a step up from the gen1 in that now the transmission module is not directly connected to the device (imagine the power brick and cables that come with most laptops and you're halfway there). The advantage of this setup is that you can now position the block in the optimal location without having to move your Zune as well. For me, it's right on top of my dash board, which is also where my Zune sits, thanks to the included nonslip pad.
Maybe I've just had bad experiences with FM transmitters, but in my experience, they've all been pretty much crap. There generally tends to be something amiss with the signal, rendering the device almost completely useless, if not pointless. But not the Zune pack: It maintains a strong, consistent signal, with easily tunable frequencies that span the entire FM spectrum (unlike cheaper products that only have a few options at extreme high and low freqs). It has 2 preset buttons to allow easy access between the two best stations, or, as
Got Zune
's Chris Leckness points out, for longer commutes.
---