Wednesday, November 15, 2006
Posted by Jason Dunn in "Zune Hardware" @ 01:00 AM
Note to the reader: when I first started working on this review, I had planned to tackle it all in one take, but given that there are so many other Zune reviews out now, I felt that I'd take the extra time to do a real "enthusiast" review where every detail is poured over. That means it will take longer to get the entire review finished, but I believe the level of detail and insight into the product will prove worth the wait.
The "OOBE" (Out Of Box Experience) is about the packaging and the presentation. Does the OOBE make you feel like you purchased something valuable and well-thought out? Or does it make you feel like you bought something cheap and of low value? When we see something in a plastic blister pack, we know it's not very expensive – when we see something in a richly coloured, finely detailed box, we have a different feeling about its value. I'll explore the Zune OOBE in a series of photographs, and as I unpack the box I'll take record my impressions about each step. And yes, I really did absorb the Zune this slowly - I didn't just rip open the box and start playing with it right away.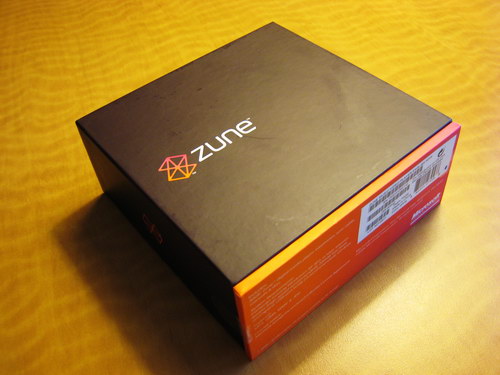 The Zune packaging is quite unique – I don't think I've ever seen any electronic device packaged quite like this before, especially not with the colours chosen. It almost looks more like a box for perfume than a digital media player. The package was much smaller than I thought it would be. There are many fascinating psychological studies about the intersection between perceived value and package size, but I think the Zune strikes a good balance. When I saw the small size of the box my perception of the value actually went up, because I was impressed with it being so small. The box has rich, deep colours, and the texture is smooth. It exudes quality.
---