Thursday, January 4, 2007
Posted by Jason Dunn in "Zune Software" @ 09:09 AM
"Makayama introduces 2 new software packages Makayama Interactive today introduces Movie Studio for Zune® and Mobile TV Center for Zune®. Two innovative software packages that allow Zune-users to watch any movie, video or TV show on the Microsoft Zune device. With Movie Studio for Zune®, only two clicks are needed to put a DVD, (home)video or YouTube content on the Zune. Mobile TV Center for Zune® is a Windows Media Center extension that allows automatic recording, conversion and transfer of TV-shows to the Zune. Movie Studio for Zune® can be installed on a Windows computer, users select a DVD, or any video file from their PC and the the software turns it into a compressed movie file, which will play on the provided video player on the Zune, with stereo sound. Subtitled and foreign language DVDs are also supported. Movie Studio for Zune® not only provides direct DVD-to-Zune transfers, it also support FLV files, the video format used on YouTube. A menu item connects to a website that allows downloading of YouTube content. The software also supports video in numerous other formats (AVI, MPEG, DivX, XVID, VOB, ASF, WMV) on all drives (harddrive, CD, DVD, removable) and encodes it to Zune compatible WMV-files. The software runs on Windows XP/NT/2000/Vista. The online download price is USD 29.95 (EUR 24.95) ex. local tax."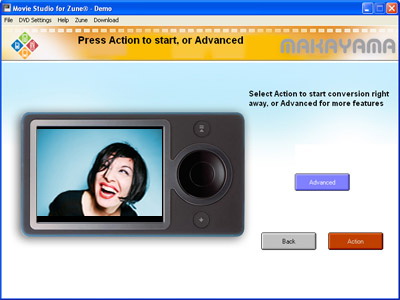 I've been waiting for some of the reputable companies in the video conversion marketplace to release Zune video conversion software, it it looks like my wait is over: Makayama has been making video conversion software for quite a while now, and I've heard good things about their product (I haven't tried it lately myself). The $29.95 USD price point is reasonable, assuming it does all it says it can - the addition of transcoding YouTube content is very cool as well. There's a
free trial available
- I've asked for a copy, so I'll let you know what I think when I check it out.
---