Monday, May 5, 2008
Posted by Jason Dunn in "Zune Software" @ 09:04 PM
"Previously the Zune Card was only on the Web, but with this release, they've become much more portable. Zune Cards are now integrated in the PC experience so you'll be able to see and listen to the music your friends play from within the Zune software, no longer having to make that additional step linking out to the web. Your friends' Zune Cards are now part of the Zune software, so you can easily sync Zune cards to your Zune by dragging and dropping their Cards onto your Zune's icon." - From The Zune Spring Update 2008 Reviewer's Guide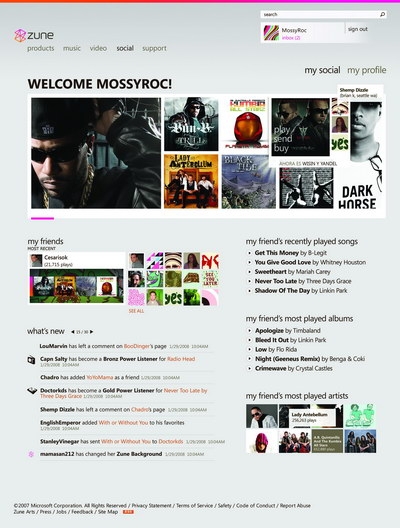 [
Click to view high-resolution version of the above image
.]
The complete fact sheet is published after the break.
"Zune Social - Fact Sheet - May 2008

Zune Social, the Zune online music community, helps you find new music and lets you inspire others to do the same. Nearly 2 million people are looking to their friends and family for inspiration in finding new music or rediscovering old favorites.

Join the community at http://www.zune.net/social.

• It's all about your Zune Card. The Zune Card is an online "calling card" that automatically reflects the music you're listening to with Zune. It's customizable, free and can be posted on whatever blog, Web site or social networking sites you frequent, where it will continue to update in real time. Move your mouse over the list of a friend's albums. With one click on the album art you can buy the track, send it or mark it as a favorite.

• Like a personal radio station. Simply drag and drop a friend's Zune Card onto the Zune player icon on your computer. If you're a Zune Pass subscriber, this means you get all the (full-track) music available via Zune Pass that your friend has been listening to. If you like it, add it to your collection with one click. If you don't have a Zune Pass, you'll see the album art and track information; mark it for purchase with one click, and the next time you sync your Zune, you'll be asked to confirm your purchase if the song is available on Zune Marketplace.
• It's now easier to find people you know. Members of the Zune online music community can add their name, location and background information to their profile page, making it easier for others to find and add them as friends in the online music community, or for you to identify friends to add to your network.

• Jump-start your experience. The key to unlocking the power of the Zune online music community is adding friends and checking out their music. To help you start building your music network, top music editors from the Zune team will automatically be part of your friends list when you join the online music community to give you a head start in finding new music you love.

• Build a reputation through participation. Your opinion and participation are valuable in any community. Now you can add reviews to artist and album pages and rate other people's reviews inside the online music community. These efforts are rewarded with badges, small icons on your Zune Card that represent accomplishments such as being the top listener of an artist, passing a specific number of total plays or reviews posted, and helping other people in the Zune forums."
#########
---