Tuesday, May 6, 2008
Posted by Adam Krebs in "Zune Content Creation & Management" @ 03:30 PM
2.5 update
, it can be hard to keep up with the other big Zune news of the week. That's right: the
preview of XNA Game Studio 3.0
will be coming out in May (Now With Added Zune Support!™). I personally can't wait to get my hands on this and crank out a test release.
The only thing I'm not really thrilled about is the requirement to join the $100 XNA Creator's Club to be able to push my creations onto my Zune.
And as great as the on-device main menu is now, I can see it getting crowded as more top-level menu items are added.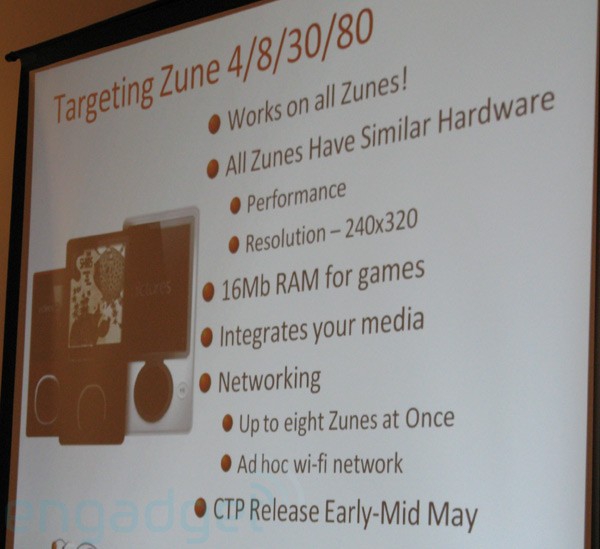 In the meantime, I'm going to look forward to just playing with the emulator in XNA Game Studio. Even Graham Skee has
reversed his views
against games on Zune (*tsk tsk*), listing 5 "
must have games
" that we Zuners should look forward to one day having on-the-go. He cited the great control scheme and phenomenal graphics as high points—plus the ability to use metadata and wifi as interesting new gameplay mechanics. A lot of the games he mentions make perfect sense, although I wonder how easy they'll be to see/play on such a small screen.
UPDATE: Corrected. Thanks Espiox.
---