Monday, June 9, 2008
Posted by David Tucker in "Zune News" @ 01:48 PM
"Are you ready to start programming games for your Zune? All you need is the XNA Game Studio 3.0 CTP and any model of the Zune media device. Follow these instructions to get started with your first Zune game. Once you've done that, try our first Zune Mini-Game, Alien Game!"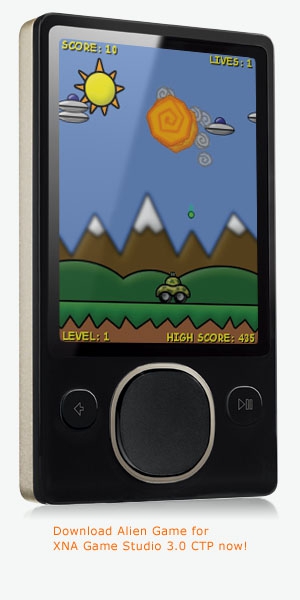 If you are looking for a complete guide to getting started with Zune game development then you don't need to look any further than the
XNA website
. I'm pretty excited about being able to play games on my Zune but being able to easily make games is almost as exciting for me.
There's a lot of information about how this works out there (that Adam was nice enough to send my way!) and between the
tips for all of you potential developers
and the
games that are available for download
, there's something for everyone already and this stuff isn't even live yet.
I'm pretty busy but I I'd really like to try and make a game of some sort for the Zune. I've always been a huge fan of turn based strategy games so I'll have to see what it's like to develop for XNA. At the very least you can expect a truly awesome "Hello World" application from me!
---