Monday, December 15, 2008
Posted by Ron Hostetter in "Zune Hardware" @ 07:00 AM
Desktop Software and Syncing
Connection to the computer comes via USB using the proprietary Zune connection cable. Plug the player in, and the Zune desktop software launches automatically and performs a sync. When using a Zune Pass subscription, syncing should be done at least weekly to allow subscription songs to keep playing. If you cancel your subscription, or if the Zune hasn't been synced in a while, the songs will "expire," preventing you from playing them.
The desktop software allows you to manage your collection of music, pictures, videos and podcasts. Audiobooks and games aren't natively managed through the Zune software.
The software is made to be easy to use for anybody, and the interface is elegant and intuitive. It includes some fancy display features that require a stronger machine to run efficiently. Those features can be disabled if the software isn't snappy enough for you.
The Zune Marketplace offers millions of music tracks, TV shows, audio and video podcasts. Unfortunately, Microsoft does not have agreements with all artists and record labels to allow for subscription downloads of their music. While most music in the Marketplace can be downloaded via the Zune Pass subscription, some music requires purchase.
But that's where the Zune Pass really earns its stripes. Not only does the Zune Pass allow unlimited downloads of subscription music, it also allows you to "buy" up to 10 tracks per month for free. These 10 tracks can be DRM free, allowing you to keep them, burn them, or play them on any other media player. Couple that with the ability to share the Zune Pass between three Zunes, and the value of the subscription becomes apparent.
The Zune Pass is a great way for families to enjoy all kinds of music. In our case, my wife, my daughter and I all share a Zune Pass allowing us to download any music we like to our respective Zune players. We can keep 10 tracks per month, and we only pay $14.99 per month.
It's not all rosy for the family of music lovers, however. Though Microsoft boasts about its "parental controls," these features are seriously lacking in Zune. I can set up a "child account" which allows me to limit access to explicit content in the Zune Marketplace. But doing so requires a separate Zune Pass subscription. (Since the subscription can only be shared between three Zunes, we've added another subscription for my son's Zune. I've turned on the parental controls for his account.) Since my daughter is sharing my subscription, she has to log into Zune using my Windows Live account. This gives her full access to all explicit content. There is no way for me to limit access to explicit content on my own account. My daughter has to download music using the honor system, and I must monitor her downloads to keep unwanted content off our computer. One other annoyance regarding the parental controls: I can't control my child's account from my own Zune account. In order to manage my son's account, I have to log out of my account, sign in using his account and then select "Parental Controls," which then requires me to log into my own account again. Microsoft really needs to rethink how it's implemented its family controls. In iTunes, I can simply elect to limit access to explicit content on my account. Zune needs to adopt this "checkbox" approach.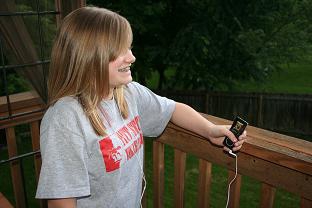 Figure 1: Carly enjoys her Zune, even if all her friends are sporting iPods.
Conclusions
The Zune is a worthy iPod competitor. Of course, the iPod dominates the market so much that it is difficult to find Zunes out in the wild. But its set of rich features including wireless networking and a vibrant screen make it a joy to use. The Zune Pass is great for music lovers, especially those who enjoy trying out new music. The 10 free tracks per month and the ability to share a subscription make the Zune Pass a great value. Unless Zune starts to gain a stronger hold on the market, accessories will continue to be difficult to find. For our family, though, the Zune fits the bill.
Ron Hostetter is a software sales engineer by day, a gadget lover by night. He has worked in the IT field for over 20 years and loves reading about and playing with technology. He lives in Kansas City, Missouri with his lovely wife, his son and daughter, and their two dogs. He enjoys playing guitar and watching the Kansas City Royals, both of which he finds very frustrating.

Do you enjoy using new hardware, software and accessories, then sharing your experience with others? Then join us on the Thoughts Media Review Team! We're looking for individuals who find it fun to test new gear and give their honest opinions about the experience. It's a volunteer role with some great perks. Interested? Then click here for more information.

---