Monday, December 15, 2008
Posted by Ron Hostetter in "Zune Hardware" @ 07:00 AM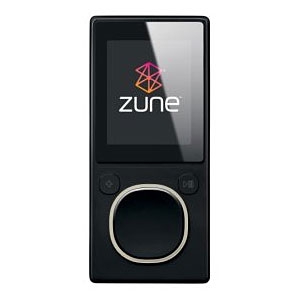 Product Category: Digital Media Player
Manufacturer: Microsoft
Where to Buy: ***NEED AFFILIATE LINK HERE***
Price: $149 USD
In the Box: 4GB Zune Player, earphones with three earpiece covers, Zune sync cable.
Specifications: 4GB flash memory, 1.8 inch color LCD screen, 320 x 240 screen resolution, 802.11b/g wireless connectivity, FM radio with RDS, dimensions 41.4 x 91.5 x 8.5 millimeters (1.62 x 3.60 x 0.334 inches), 48.2 grams (1.7 ounces).
Pros:
Small, light, fully functional media player;

High resolution LCD screen with beautiful colors;

Zune Pass subscription allows for unlimited music downloads.
Cons:
Large border around screen seems to make the screen smaller than it needs to be;

Very few accessories available;

Difficult to limit access to explicit content using Zune Pass.
Summary:
Microsoft's family of Zune players now includes smaller flash memory players with the full functionality of the larger, hard-drive players. The smallest of the bunch is the 4GB model. These small devices include wireless networking, video playback, and FM radio, just like their bigger brothers. The sound quality is good, even through the cheap earbuds included in the box. The Zune Pass subscription is a great value, allowing subscribers to download unlimited music for only $14.99 per month. The Zune Pass can be shared with three Zunes, allowing a family to enjoy as music as they like. The small 4GB Zune's screen has fantastic resolution, but the screen is too small to really enjoy watching videos.
---