Thursday, October 5, 2006
Posted by Jason Dunn in "Zune Talk" @ 03:43 PM
"Laura, Jesse and I headed over to Zune land to see what we could learn about this upcoming device. Since I'm a bit of
a Zune enthusiast
, Laura and Jesse ran camera and I handled asking the questions of Matt Jubelirer, the Zune team member who was there to show me the device (three devices, he had one of each color with him!). Matt takes us through a tour of the features and answers some questions that have been on our minds since we first started hearing about the Zune."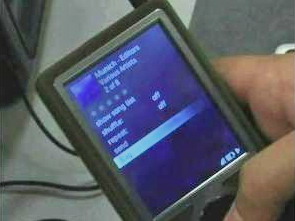 Watching the video
(download the high-res version if you can, it's nice to watch), here are some points I gleaned:
You can flag songs - it's a discovery tool. When you find content that you want to remember later, you can flag a song and it will be tagged as such when you look at your library in the Zune desktop software.


The slideshow feature looks completely identical to the Portable Media Center version. Hopefully the performance improved - I was using my Gigabeat S the other day, showing a friend some standard photos (320 x 240) and was appalled when the player threw up the "waiting" icon. For a 30 KB file? Come on, that's just lame.


The Zune was designed for landscape functionality: the circular intendation on the back matches up with the directional pad on the front, giving your fingers on the back a natural place to rest to line up with your thumb on the front.


Just like the PMC, the navigation buttons change in landscape to be logical - when you're in landscape mode the left/right buttons become the next/previous buttons. I couldn't tell if the image zoom feature from PMC 2.0 has been retained or dropped from the Zune.


Personalization is important to the Zune team. The Zune will crop and scale images to make it the wallpaper for the device. I get the feeling this is totally automated, which means it will likely be hit or miss in terms of how well it will work with all images.


They talked a bit about the screen quality - it's so hard to judge the quality until I can see it in person, but based on the videos and photos I've seen, it looks very crisp and high-contrast. I hope it's better than the screen on the Gigabeat S - it doesn't have a bad screen, but when compared to my Zen Vision:M, it's noticeably more pale and lacks "punch".
---