Sunday, January 7, 2007
Posted by Jason Dunn in "Zune Accessories" @ 12:00 PM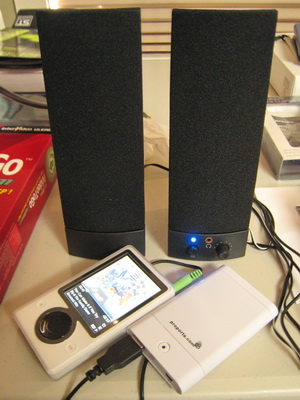 Since I haven't seen any portable Zune speakers (you know,
something like these
) I thought I'd see if I could come up with my own solution. Nothing fancy here: I have a pair of $20 Altec Lansing USB-powered speakers (that are so obscure I can't even find them on the
Altec Lansing Web site
) connected to a
Proporta USB battery
. The Zune connects to the speakers over the headphone jack, and that's that. The sound isn't anything to write home about, as you might imagine, and I have no idea how long the speakers would last with this Proporta battery. But hey, until someone invents a real accessory like this for the Zune, I have my throw-together solution. Has anyone put together anything similar?
---