Tuesday, February 6, 2007
Posted by Jason Dunn in "Zune Events" @ 09:28 AM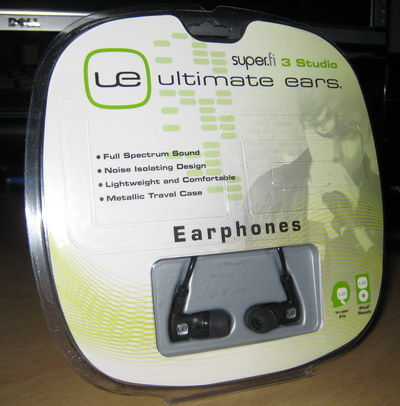 Here's a contest for regular Zune Thoughts readers: I've got a pair of black
Ultimate Ears super.fi 3 Studio
earphones, courtesy of the fine people at Ultimate Ears, and they're looking for a good home. These are the same type of headphones that I
reviewed last year
, and although the bundled headphones with the Zune are surprisingly decent, these blow them away.
To win this pair of headphones here's all you have to do: post a message telling me about the
worst sounding headphones
you've ever used, and what device/product they came with (or if you were unfortunate enough to buy them yourself). Remember I said this a contest for regular Zune Thoughts readers? That's because I'm going to close off this contest at some random point in time later today (don't worry, it will be near the end of the day). If you haven't posted here before, your first post needs to be approve by us, but rest assured I'll approve all the posts before I do the random drawing. Get to it!
UPDATE:
I closed the contest today at 5:52 pm my local time. The winner is
yoda16
. Congratulations, and thanks for participating everyone. I had a good chuckle reading some of your comments - it really is amazing what a difference earphones can make! If you're looking to buy your own Ultimate Ears headphones, take a browse through our
Amazon.com affiliate store
(your purchases help support Zune Thoughts).
---