Friday, April 18, 2008
Posted by David Tucker in "Zune News" @ 10:30 AM
"Reebok & Zune have teamed up for the first time to bring you a limited edition Allen Iverson sneaker - the Answer XI Zune. This partnership between Reebok and Zune brings together two things important to AI in his life - basketball and music. Reebok has produced 60 pairs of a special version of Iverson's latest Reebok signature shoe - the Answer XI. For this limited-edition collection, the Answer XI has been designed featuring the Zune logo."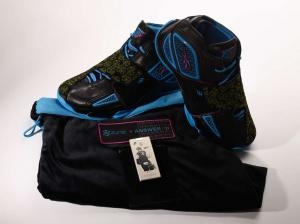 It's too bad they're only doing a few of these since the shoes actually look really good. I would say if you're an AI fan, though, this is almost a must have set. The Zune itself will be very unique and full of AI clips and commercials. With only 60 of these hitting the street I would go out on a limb and say that they'll have some real value down the road too as AI is a great player.
So if you live within driving distance of any of the five stores
that they're going to be selling these at, definitely try and get one of these sets! At $300 for a pair of Reeboks and the Zune player, that's actually not an unfair price at all.
---