Monday, May 5, 2008
Posted by Jason Dunn in "Zune Software" @ 09:01 PM
"The Spring Update will expand on this by adding download-to-own TV shows to the Zune Marketplace. Zune will feature episodes of popular shows available for download. You can browse shows by genre or by network and we'll showcase TV programming in the same way we promote music artists. Each episode will cost 160 Microsoft Points (approximately $2.00 USD) and will come with licenses for up to five PCs, and can be sync'd to your Zune."
- From The Zune Spring Update 2008 Reviewer's Guide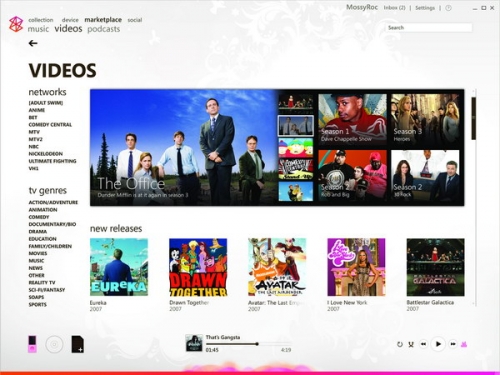 [
Click to view high-resolution version of the above image
.]
The complete fact sheet is published after the break.

"Zune Marketplace - Fact Sheet - May 2008

Zune Marketplace is the online store for Zune where you can find great music, music videos, television shows and podcasts. It is accessible through the free Zune software and works together with your Zune to give you one place to find and download the music, video and podcasts you want to enjoy. Zune shoppers have the option to explore millions of tracks for the cost of one CD a month. Purchase and download your music in pure MP3 format so you can own it forever and play it wherever you want.

Check out Zune Marketplace at http://www.zune.net/en-US/products/zunemarketplace.

Zune Marketplace — Discover Something New

• The Zune Marketplace — well stocked. Zune Marketplace adds exciting new content every day. Currently there are more than 3.5 million songs, two-thirds of which are available in pure MP3 format. You can choose from more than 4,800 music videos, 800 TV shows, and a healthy selection of more than 3,500 audio and video podcasts. Organized by genre and subgenre and complete with a powerful search function that searches the store as well as your collection, Zune Marketplace lets you always find what you're looking for.

• Watch television on the go. The dedicated video store within Zune Marketplace is a one-stop shop where you can buy music videos and episodes of popular TV shows from networks such as COMEDY CENTRAL, FUNimation® Entertainment, MTV, NBC Universal, Nickelodeon, Starz Media (including Manga Entertainment), Turner Broadcasting, Ultimate Fighting Championship® and VH1. Consumers can choose from episodes of popular television series such as COMEDY CENTRAL's "South Park," FUNimation's"Afro Samurai" and "Witchblade," MTV's "The Hills," NBC's "The Office," "Heroes" and "30 Rock," Nickelodeon's "SpongeBob SquarePants," SCI FI Channel's "Battlestar Galactica" and "Eureka," Starz's "Street Fighter," Turner's "Metalocalypse," and "Robot Chicken," UFC's "The Ultimate Fighter®" and "Fight Night," VH1's "Rock of Love with Bret Michaels" and more. Each video costs 160 Microsoft Points (approximately $1.99 U.S.) and comes with licenses for up to five PCs.

• Access to millions of tracks — your way. Use a Zune Pass subscription to explore millions of songs available on Zune Marketplace for a flat fee of $14.99 a month and fill your Zune with new music whenever you want. You can use your Zune Pass on up to three PCs and three Zune devices, making it the perfect choice for families and music lovers. You can also purchase songs, music videos and videos a la carte from Zune Marketplace using Microsoft Points, which work across both Zune and the Xbox LIVE Marketplace.*

• Custom playlists. Discover new music to love, and rediscover old favorites, with custom playlists from the Zune Marketplace team of editors and special guests. There are more than 1,000 handpicked playlists from top music editors from Zune Marketplace and special guests, with new playlists available for download weekly.

• See fellow fans of your favorite artist. From your Zune software, you can see which of your friends are listening to the artists you like, either from within your own collection or from the artist's page on Zune Marketplace. You can also see who the top listeners are for any artist, which lets you connect with people who share your musical tastes.

* DRM-free MP3s, videos and some songs are not available via Zune Pass."
#########
---