Friday, June 6, 2008
Posted by Adam Krebs in "Zune Media" @ 06:30 PM
N.E.R.D.'s new album is titled "Seeing Sounds" but Wednesday night they had their fans seeing stars. Led by their always-charismatic frontman Pharrell Williams, the musically adventurous trio celebrated the impending release of their album with an exclusive party at Hollywood's swank Roosevelt Hotel. Sponsored by new media company Zune, "Zune Presents N.E.R.D. Live at the Roosevelt" drew some of the world's biggest celebrity names, including Lindsay Lohan, Snoop Dogg and Paris Hilton, along with hundreds of loyal fans.
"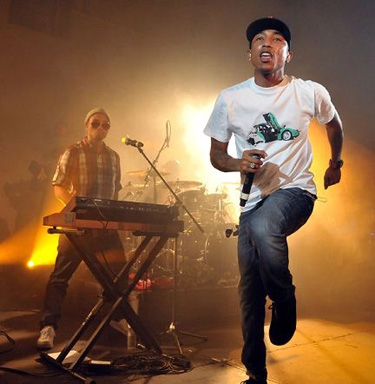 DJBooth.net has a good write-up of Wednesday's launch party in Los Angeles.
N.E.R.D.
, if you remember, is responsible for the song "Spaz", featured in the
latest Zune commercial
. I saw N.E.R.D. three weeks ago as part of the Glow in the Dark tour, and they were amazing and energetic. I really hope Zune sponsors another BBQ this summer with N.E.R.D. at the helm, or at least an on-the-road tour so that more people get to check out this fantastic group. Look for
Seeing Sounds
to drop on the 10th.
---