Thursday, August 7, 2008
Posted by Adam Krebs in "Zune Content Creation & Management" @ 01:00 PM
Steven Hughes via Techronical attempts to answer a question that most Zuners encounter at one point or another; how to get high-quality videos in a compact filesize and that don't take a long time to convert. Based on a tip from Long Zheng, Hughes recommends the free (donationware) program MediaCoder, which allows users to import custom encoder presets to help smooth the process and achieve consistent results.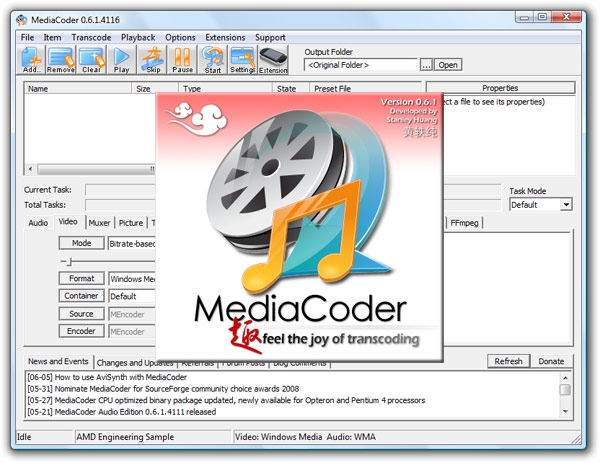 Though Zheng's settings file is MediaCoder-specific, his suggested bitrate, framerate, and resolution should be universal for your favorite encoder.
He recommends:
Video:
Format: Windows Media
Codec: Windows Media Video 9
Mode: Bitrate-based
Bitrate: 768 Kbps
Resolution: 320×240
Frame rate: 25 fps
Audio:
Encoder: Windows Media Audio
Codec: Windows Media Audio 9.2
Resample: 44100 Hz
Mode: CBR
Bitrate: 192 Kbps
Keep in mind that you most likely don't have to use such a high bitrate for audio (typically I use 128 Kbps). If you have a Zune80 and want to display your videos on the TV, you should set your resolution to 640x480 (Zune4, 8, and 30 just leave it as-is). As pointed out by Civisi last week, if you're converting videos manually, you should make sure the Zune software isn't fighting your progress by re-encoding your videos at sync time. Check the Settings page of the software under Device, Conversion Settings to best fit your needs.
---