Thursday, October 23, 2008
Posted by David Tucker in "Zune News" @ 05:00 AM
"Calling all shower singers, rush-hour traffic vocalists, wanna-be rappers, pop princesses and those with a country twang: "Lips," the highly anticipated singing experience exclusively for Xbox 360 from iNiS Corp., will be available in mid-November 2008. Picture throwing a "Lips" party for your closest friends where everyone sings and grooves to a vast array of music backed by the original music video, lyrics and scoring. Not only can everyone sing along, but "Lips" is the only music video game that comes with two wireless motion-sensitive microphones, allowing the freedom to put on the ultimate performance. Your parties will never be the same!"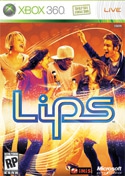 Well, I forgot about Lips but this game from iNiS is finally almost here. I know they wanted to get this out for the holiday season but I feel like they really missed the boat. Rock Band 2 is already out and Guitar Hero 4 releases on Sunday. I'm not sure how a game like Lips, which is simply the karaoke portion, can really hope to carve out much of a niche in the market.

It does have some interesting game play modes. Freestyle looks especially promising since it allows you to sing songs from your own collection. I assume this is how the Zune will tie into the game. Given how lackluster the track list is its a good thing that the game allows this. Ultimately, I just can't see myself getting this one. Game Focus has all the details if this one is for you though!
---