Wednesday, March 11, 2009
Posted by Jason Dunn in "Zune Events" @ 12:39 PM
"Toronto, ON, March 11, 2009 - Beginning today, Zune Canada will conduct a month-long search to find Canada's hottest undiscovered band or artist to perform at the Zune Concert Series, Canada's biggest free outdoor music festival taking place April 17-26 during the 2009 TELUS World Ski & Snowboard Festival. As part of its commitment to emerging Canadian artists, Zune is supporting musicians working to break out and gain industry exposure with the Zune Concert Series Competition. Bands and artists are invited to upload an original music track at www.zune.ca to enter the competition. Music fans will be able to listen and rate selected tracks from participating bands, and have the chance to win a trip for two to see the selected band play live at the 2009 TELUS World Ski & Snowboard Festival."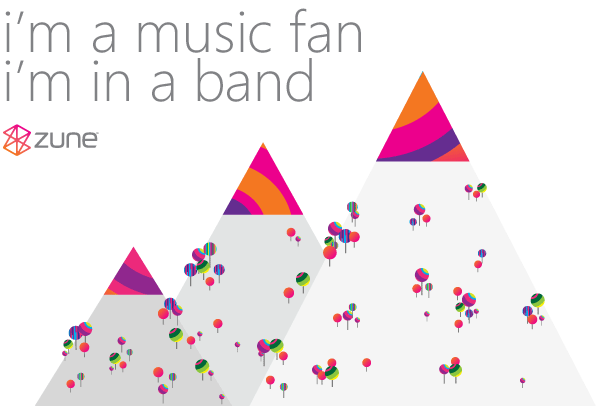 As a former "professional" musician (I got paid for gigs I did when I was in a band, so I can technically say that, hehe) I'm always interested in seeing ways that aspiring bands can make it to the big time - because for all the bluster about the Internet "changing everything", many bands still need the muscle of a record label to get their music out to the general public. I've bought more music from bands I've heard on TV shows than I have of bands that I've discovered purely online. The fact that the winning band gets hooked up with a mentor is also pretty cool! The remainder of the press release is after the break.
"The winner will be chosen by a panel of esteemed music industry experts on April 13th, 2009. The winning band or artist will receive a coveted spot to perform on the Zune Concert Series Stage at the TELUS World Ski & Snowboard festival, sharing the bill with industry talents The Stills, Metric, Ten Second Epic and DJ Z-Trip, among others. The winner will also be awarded the opportunity to connect with Canadian music industry agents, A&R reps, and managers who will advise the band on what it takes to succeed in the highly competitive music industry.
The Zune Concert Series is a highly-anticipated highlight of the TELUS World Ski & Snowboard Festival, a huge celebration in Whistler, B.C. featuring 10 days and 10 nights of live concerts, art exhibits and big air comps in Canada's infamous outdoor playground.
For more information on the Zune Concert Series, visit www.zune.ca or www.whistler2009.com.
WHAT: Zune Concert Series Competition
WHEN: Zune Concert Series Competition: March 11 - April 7, 2009, winner will be selected on April 13, 2009; Zune Concert Series: April 17 - 26, 2009
WHERE: Submit Band Search entries online at Zune.ca; Listen and rate music tracks competing for top prize Zune Concert Series will take place at the TELUS World Ski and Snowboard Festival, Whistler, B.C."
---