Tuesday, March 30, 2010
Posted by Chris Sacksteder in "Digital Home Software" @ 07:00 AM
Technical Support
One big reason to buy a product like this instead of using freeware is technical support. I had one problem with the software that was used to measure the quality of their customer support. QuickTime files recorded by an Olympus C-8080 camera would not play in the preview windows; an "access violation" error message from one of the .DLL's was displayed. They converted to WMV fine, so I looked on the support site http://support.daniusoft.com for any known problems. I didn't find any hits so I opened a ticket (under "Ask a Question"). That resulted in to emails right away, one that said it added my address and listing a password for the ticket system, and a second with the ticket info. I very much like that I didn't have to register and created a password before adding a ticket. This was a Saturday night, 10pm EST. I got a real reply at 1:37am the next morning asking me to try reinstalling the application because the symptoms looked like a bad or broken file.
Later, I recorded an .AVI file with a Cannon PC1309; trying to preview that resulted in the same error, so I add that information to the ticket.
Several weeks and many exchanges with their tech support did not resolve the problem. Of the 6 computers I tried the program the problem went away on one after installing Apple QuickTime player, but that did not help other systems, including a bare-bones XP build. Codec problems are difficult ones to solve, but I could not get them to escalate the problem or admit their DLL should not throw an access violation, which was very disappointing.
These files convert fine on all the test systems; the bug is only in the preview function. You can see if it is an issue for you by trying the trial version.
Conversion Performance
To compare performance with some alternatives, several kinds of files were converted to WMV files to target a Creative Zen XFi media player and a HTC Touch Pro phone using Daniusoft Media Converter Ultimate and 3 alternative programs:
Windows Live Movie Maker free; while mostly for editing movies, the "Share" toolbox creates several kinds of output.
Creative Centrale free, but you need a Creative Player attached to do a conversion, and a lot of patience to use this painful software. On computer #2 it would not work right so I used Creative Media Converter which is presumably the same engine, but can no longer find to install on the other two computers.
Digital Media Converter 3.01 free trial, license $39.95. Chosen somewhat at random and because the fre trial doesn't limit output length; instead is overlays a watermark on the output.
Timings were made on 3 different test computers:
Laptop: a Lenovo X60 laptop with 3GB of memory and an Intel Core Duo L2400 1.66Ghz CPU running Windows 7 Ultimate 32-bit.2.
Desktop: a Dell Inspiron 518 with 3GB of memory and an Intel Pentium Dual E2220 2.4Ghz CPU running Windows 7 Ultimate 32-bit (source and target on two different disks).
Workstation: a Dell Precision T7400 with 12GB of memory, dual quad-core ... , solid state disks running Windows 7 Professional 64-bit.
Test input files were:
Quicktime MOV recorded by an Olympus C-8080WZ, 57 seconds, size 320x240, 15fps, file size 17.7MB.
AVI recorded by a Cannon PC1309 point-and-shoot camera, 30 seconds, size 640x480 30fps, bit rate 15575kbps, file size 49MB.
MPEG4 sample used in Thoughts Media reviews, 48 seconds, size 640x360, 29fps, bit rate 1632kbps, file size 9.35MB.
WMV, same clip as above; since target is WMV, this transcoding should be easier.
The target format was a 320x240 WMV file with similar but not identical parameters selected with each application. Each conversion was timed 3 times, and the computers were rebooted before using each software package; the average times are shown in Figure 5. Most of the results were good except the MPEG4 test file did not play well when created by not-so-Creative Centrale.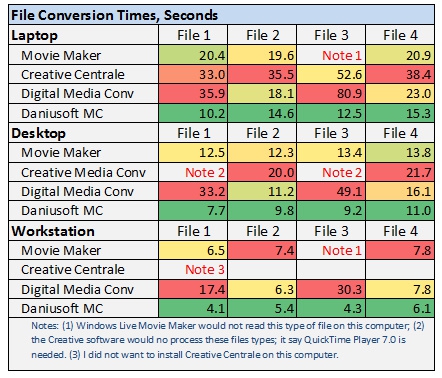 Figure 5: Summary of conversion timings.
However, later when looking at the results burned to a DVD, I noticed the video converted from File 1 was broken up half way through (Figure 6).
Figure 6: Breaking up is (not) hard to do, or . . . tragedy as my son de-res'es on a recent visit to Caprica.
On further investigation I found that 8 of 10 Quicktime files had errors when converted to WMV; most errors started about 20 seconds into the clip, but one was ok until 2 seconds from the end, at 2:20. Of the 2 that were ok, one was only 21 seconds long; the other was not recorded by my Olympus camera and had a frame rate of 11fps vs. 15fps for the rest. All were ok when converted to MPEG. Changing the encoder from WMV1 to WMV2 or WMV3 did not help, but setting the frame rate to "Keep original" fixed the problem. I can't think of any reason to increase the frame rate when converting a file, so the default setting ought to be to keep the original frame rate.
Note that another alternative is Microsoft Expression Encoder 3 (free), which I discovered too late to include in the speed trials. It makes only WMV and Silverlight files, and was slower than the other 4 programs (40 seconds for File 1 on the laptop, 98 seconds for File 2) but it does other things such as screen capture and A/B comparisons (split screen showing input and output at the same time).
Anyway, In all cases, DMCU ran faster than the 3 alternatives, and in some cases very much faster. It and Movie Maker appeared to use all CPU cores, while Creative Centrale and Digital Media Coverter seemed to be single-threaded. On the workstation, the DMCU did not "peg" the 8 cores, but ran them about 20% (because the run time was short, it was hard to tell). It would have been interesting to try larger files, or a suite of files, and different kinds of output, but these test were enough to indicate that the software performs very well with the right settings.
---