Tuesday, March 30, 2010
Posted by Chris Sacksteder in "Digital Home Software" @ 07:00 AM
Burning A DVD
The "Burn to DVD" function looks fairly typical; you select files to include, select one of several menu templates (Figure 7) and optional background image and background music, then select recording options (Figure 8), then click start.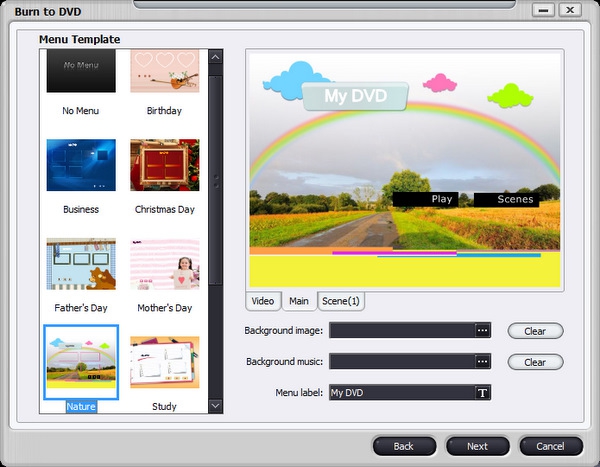 Figure 7: Burn DVD Initial Dialog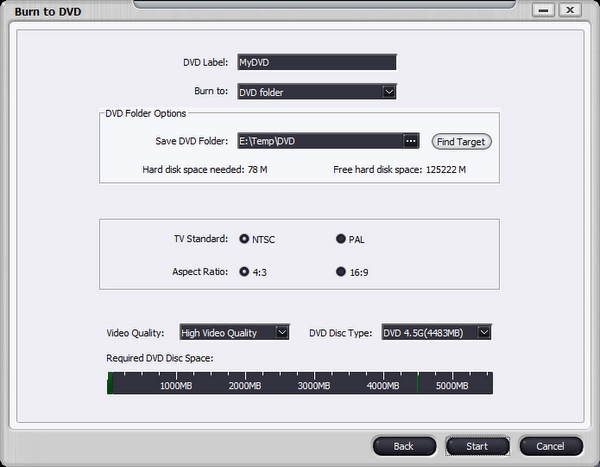 Figure 8: Options for DVD Burning
But there are some bugs here. On a laptop with no DVD drive it defaulted to burning to a "DVD folder", but then it said "File size exceeds DVD capacity" even though the disk had 50GB free and the clip was 58 seconds. Switching the target folder to a partition with 112GB free allowed it to continue.
Several more tries on computers with DVD burners and various input files were not very promising. With one 2-hour file, edited in Windows Live Movie Maker, and thus (unfortunately) in WMV format that has to be transcoded, DMCU estimated that the low quality was needed so it would fit. After a long time, "Burn to DVD" window was sometimes not responsive for many minutes even though the second step was showing 100% done. When it was finally ready to actually burn the DVD, it ejected the disk even though I had put a new blank one in. Then, after another minute it ejected the disk again with "There is not enough space in the DVD disk", even though it was new. So after 64 minutes, I had no DVD. Windows DVD Maker (which comes with Windows 7) made DVDs from the same input file without problems, taking 33 minutes on the workstation but an astounding 2 hours and 17 minutes on the desktop. A second copy took 15 minutes, so most of the long time was recoding the WMV.
In another comparison, two 60-minute recordings made by SageTV were burned to DVDs. These are already MPEGs at 720x480, so presumably less recoding needed. Windows DVD Maker took 22 minutes; DMCU took much longer. Two instances of CmdConverter.exe ran at near 100%, so it must have recoded both shows in a CPU-consuming way. Again, during the "Create DVD folder" step the status bar stopped at 100% and it looked like nothing was happening for many minutes. Then, finally after 2 hours and 2 minutes, it ejected the new DVD disk, asked me to insert a new one, then said "There is not enough space in the DVD disk, please use another one." Well, at least it said "please".
Invoking the "third time" charm, I restarted a burn with one 60-minute recording . . . 119 minutes later DMCU finished making the DVD . . . don't celebrate too soon . . . the audio was way off, about 20 seconds ahead of the video. Choosing 10 shorter videos, ranging from 20 seconds to about 5 minutes, the create-DVD process finished, but the results played poorly on a Panasonic DVD player, with drop-outs and the sound out of sync.
Two more DVDs were burned on a different computer, but the results were jittery, broken-up, and unwatchable. On the same computer Windows DVD Maker made DVDs from the same input that were fine.
Conclusion
Daniusoft Media Converter Ultimate does not live up to its maker's claims of a "multimedia processing Titan". It is easy to install and use, and it converts media files quickly. It can usually take advantage of mulitple processors in a high-end workstation and dual cores in a laptop. It is good at ripping DVDs, but not very good at burning them. I believe it would remove DRM protections from various media files by playing those files when a license is present and recoding the streams. This is time consuming and may violate the terms of the media source.
Documentation is minimal and not very helpful. The large number of options and media types is impressive, but there is little or no guidance on what to use when.
Techincal support was very disappointing. Although replies were prompt and polite, I demonstrated a problem in previewing two common file types on 5 different computers, yet they seemed unwilling to believe it was nothing more than a configuation problem on these computers and to escalate the issue, which remained unresolved.
Nevertheless, if you need all or most of the functions and would prefer them in one product, it may be worth the $60. If you only need a few functions, the company sells many different products with cababilities that were combined into the Ultimate version. It would be worth your time to try the free trial of one of them or Media Converter Ultimate to see if it meets your needs.
Chris Sacksteder is a Systems Design Specialist living in central Pennsylvania and working for THE Pennsylvania State University. During cold weather, his hobbies include all aspects of home media -- TV, movies, music, pictures, home videos, and making many shiny plastic coasters. He's planning to jump to HD soon.

Do you enjoy using new hardware, software and accessories, then sharing your experience with others? Then join us on the Thoughts Media Review Team! We're looking for individuals who find it fun to test new gear and give their honest opinions about the experience. It's a volunteer role with some great perks. Interested? Then click here for more information.

---