Thursday, June 14, 2007
Posted by Jason Dunn in "Zune Accessories" @ 07:00 AM
Decalgirl
. Long known for Xbox, iPod, and laptop skins, Decalgirl jumped on the Zune bandwagon quite quickly after launch, offering a large variety of Zune-sized decals. They sent me a couple to review – here's what I thought of them.
Ordering a Zune decal is easy enough – they have a
Zune section for their decals
, and there are over 90 different designs. The price is the same regardless of design - only $6.99 USD per decal – and shipping is reasonable at $2.25 USD to a US-based address for one label, and a not-quite-so-reasonable $9.25 USD to Canada. I'm not sure about the rest of the world, but they do ship to a large number of countries. The breadth of designs is impressive – regardless of your own sense of personal style, odds are good that you can find a decal that matches your mood and style. They have all manner of designs, all with creative names:
Demonic Mitosis
,
Envy
, and
Woodland Camo
just to name a few. You can even fulfil your
Cuella De Vil fantasy
if that's your fancy.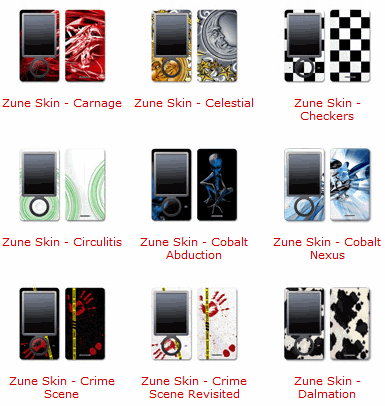 Figure 1: Nine of their 90+ designs.
---