Thursday, April 8, 2010
Posted by David Tucker in "Zune News" @ 06:30 AM
"Tristan tells Consumerist that his Zune was about two years old and out of warranty when it began leaking battery acid on his hand. Appalled at the options that regular customer service offered, he used techniques from the Consumerist toolbox and empowered himself. He used our guide to crafting an Executive E-mail Carpet Bomb, and found contact information for Microsoft executives on the site as well. Getting his case in front of a person with actual authority earned Tristan a free repair of his obviously defective Zune."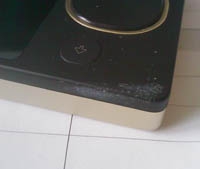 This happened a couple weeks ago but it's no less relevant if you have any issues that need to be resolved yourself. I don't think the substance was exactly battery acid as we might think of it in older batteries but no matter what it was, it was still bad that it was leaking from his Zune!
I have to admit, I think it was very nice of Microsoft to offer a free repair of a two year old Zune but that just goes to show you that if you're persistent enough, you can get most anything taken care of. I've actually had an issue resolved by the Consumerist before so I can speak to their effectiveness. I'd highly suggest reading the whole article to learn how you might follow Tristan's footsteps if you feel you need a little 'extra' help from customer service.
---