Wednesday, February 14, 2007
Posted by Darius Wey in "Zune Talk" @ 07:45 PM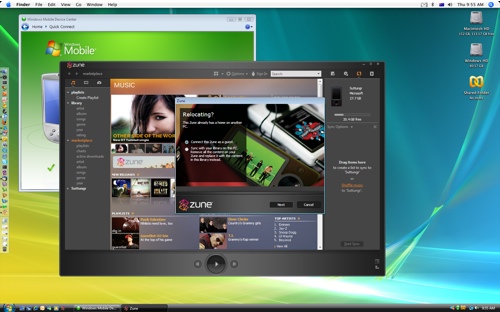 Click the image above for a larger version.
Zune on a Mac? Yes, it's possible - and no, I'm not talking about the
Boot Camp
workaround.
Parallels Desktop for Mac
makes it easy to run Windows and Mac OS simultaneously, although unlike older virtualization products such as Microsoft's retired Virtual PC for Mac, Parallels Desktop offers an extra set of features that take the virtualization experience to the next level. The latest beta offers a new mode known as
Coherence
, which blends Windows with Mac OS to create an ultimate desktop environment where interaction is seamless. Both Windows and Mac applications appear on a single desktop and co-exist in the Dock and the Cmd+Tab interface.
Read more...
---