Friday, December 18, 2009
Posted by Jason Dunn in "Zune Talk" @ 10:53 AM
Soon after the Zune HD Twitter app was released yesterday, people who were following people who swore in their Tweets noticed something strange: the app on the Zune was filtering the swear words and replacing letters with asterixes. It looked like this: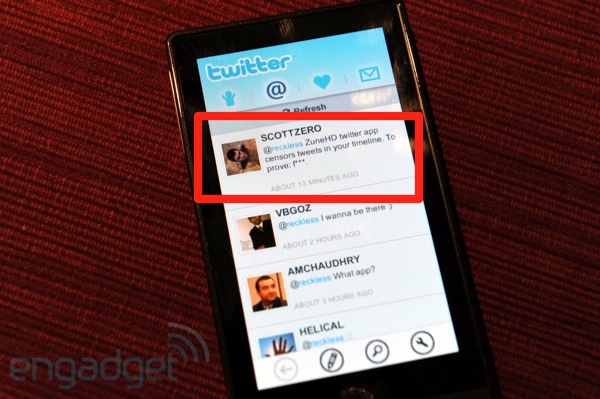 Image courtesy of Engadget
Now, personally I don't follow many people who swear - and would probably un-follow anyone who swore constantly - so this issue didn't bother me at all. Many people got worked up about this though, so when I started to think about why Microsoft did this, the reason seemed obvious to me: parental controls.
If you're a parent, and you bought an iPod for your kid, you might not want him to be able to download any app he wants from the app store. The app store doesn't have truly "adult" apps, but there are some "mature themed" apps. From within iTunes you can control which apps your kid is allowed to download. If you own an iPod you've doubtless seen the pop-up warnings about age 17+ content on apps like FML [NSFW] - those are more of a "cover your butt" thing from developers. The reality is that if a parent wants to control which apps their kid downloads, they need to lock it down from iTunes.
Here's the thing though: the Zune software lacks any type of parental controls. There's no way to lock down a Zune HD from downloading mature-themed apps. Up until now, with only a handful of games and a couple of utilities, this hasn't been a problem. But with the Twitter app, the Zune HD had an app that could have some mature content on it. So my thought was "OK, that must be why they're censoring curse words in the Zune HD app - because they don't have a way to allow parents to block the install of the app." Sounds reasonable, right?
It seems not - I was interpreting the Zune team's behaviour incorrectly. I asked the Zune team for an official response to this issue of censoring on the Zune HD Twitter app, and here's what I got back from them:
"The recently released Twitter for Zune HD application has been abbreviating some explicit words in tweets when viewed on the device; however these explicit words do appear in their full text on the Twitter site or on any other Twitter client. We have identified the issue and are taking steps to update the application as soon as possible to ensure Twitter for Zune HD users are able to view tweets in their original state." - Microsoft spokesperson
They've "identified" the "issue"? That's Microsoft-speak for "we've found a bug". This makes no sense to me though - the app filtering curse words isn't a bug, it's a feature. A bug is the Zune HD Twitter app disconnecting from WiFi, or locking up (I haven't seen either of these issues myself). Word-censoring is feature that was poorly received and resulted in some blow-back - mostly from people who delight in hammering Microsoft on everything they can - but instead of explaining why this feature was implemented, the Zune team is back-peddling and trying to pretend like this is a glitch that shouldn't have made it's way into the product.
When I asked the Microsoft spokesperson for further clarification on this issue of it being a "bug", I was told that he had no further information for me. Something doesn't seem right about this. Ed Hansberry came up with this interesting thought: perhaps this was a feature that was meant to be something you could toggle off or on, but it wasn't quite ready yet and somehow it got turned on by accident? And we'll see this feature come back in a later version of the app? But if that's the case, why not explain that to Zune users? Pretending a feature is a "bug" is disingenuous at best. Come on Zune team, I know you can do better than that!
Jason Dunn owns and operates Thoughts Media Inc., a company dedicated to creating the best in online communities. He enjoys photography, mobile devices, blogging, digital media content creation/editing, and pretty much all technology. He lives in Calgary, Alberta, Canada with his lovely wife, and his sometimes obedient dog. He's dreaming of the day when he can get a Zune HD with 64 GB of storage.

Do you enjoy using new hardware, software and accessories, then sharing your experience with others? Then join us on the Thoughts Media Review Team! We're looking for individuals who find it fun to test new gear and give their honest opinions about the experience. It's a volunteer role with some great perks. Interested? Then click here for more information.

---