Friday, December 18, 2009
Posted by Jason Dunn in "Zune Talk" @ 10:53 AM
Soon after the Zune HD Twitter app was released yesterday, people who were following people who swore in their Tweets noticed something strange: the app on the Zune was filtering the swear words and replacing letters with asterixes. It looked like this: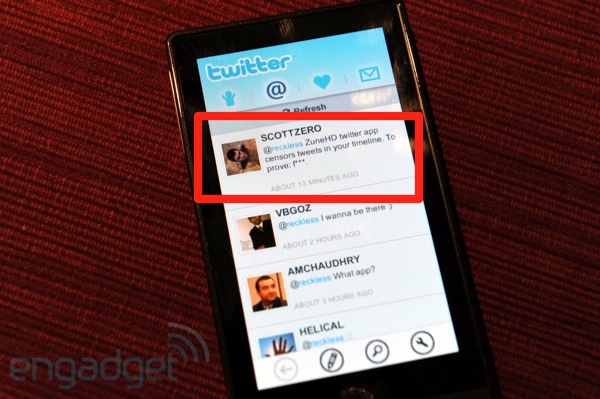 Image courtesy of Engadget
Now, personally I don't follow many people who swear - and would probably un-follow anyone who swore constantly - so this issue didn't bother me at all. Many people got worked up about this though, so when I started to think about why Microsoft did this, the reason seemed obvious to me: parental controls.
If you're a parent, and you bought an iPod for your kid, you might not want him to be able to download any app he wants from the app store. The app store doesn't have truly "adult" apps, but there are some "mature themed" apps. From within iTunes you can control which apps your kid is allowed to download. If you own an iPod you've doubtless seen the pop-up warnings about age 17+ content on apps like FML [NSFW] - those are more of a "cover your butt" thing from developers. The reality is that if a parent wants to control which apps their kid downloads, they need to lock it down from iTunes. Read more...
---