Monday, November 19, 2007
Posted by Jason Dunn in "Zune Talk" @ 01:00 PM
his rant
:

"This post has a bit of strong language and was written by someone who is incredibly pissed off at the Zune Team right now for making his life a living hell for the last week trying to get his music into the new software. If you can handle that. click the more link to read it all. There is one reason and one reason only. Because since tuesday night when i got home from work i have been spending almost every second on my computer (when not playing Crysis) trying to fix my music collection. I've now spent (and yes i did count) 35 HOURS on fixing my music collection because of the new zune software destroying it. Not to mention i've done the two metadata fixes 45 times each and nothing works. My music collection is still destroyed."
Here's the thing though: I'm not convinced that the Zune software is actually
altering
the metadata, I think it's just
reading
it wrong and and giving the user incorrect results. Let's start by looking at the problem: here's a screen shot from my Zune software showing the problem: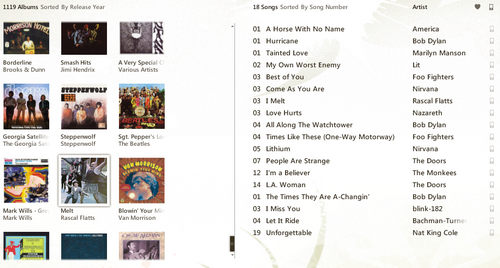 It's showing the cover art from a Doors album, sorted by release year and displaying in with my '60s/'70s releases - which would be correct if this really was the Doors album. The album name and artist, however, is "Melt" and "Rascal Flatts" respectively. Worse, the contents of this album are a mixture of Bob Dylan, Foo Fighters, Nazareth, Rascal Flatts, and The Doors. A user seeing results like this would undoubtedly be confused and frustrated, and rightly suspect the Zune software of altering their metadata. But is it? Let's drill down with some more screen shots...
Read more...
---