Tuesday, May 12, 2009
Posted by Adam Krebs in "Zune Media" @ 06:30 PM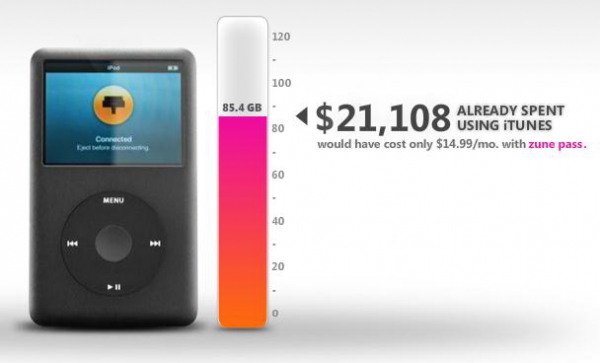 Microsoft's newest Zune ad pushes the cost-benefit savings of using a subscription service over comparable a la carte purchasing option. With the economy in its current state, consumer budgets are tighter than ever. Will this be enough to sway consumers to come to Zune Pass? I don't think so, and here's why:
Yes, the Zune Pass is a great deal, but these over-simplified arguments aren't convincing anyone. Does anyone actually spend thousands of dollars on music from an online store? Of course not; you rip from CDs, download mixtapes and mp3s, and get friends to send you songs. I remember when the Zune launched, the argument that people weren't deeply entrenched in iTunes DRM (a reason they wouldn't want to switch to Zune) was countered by saying that people spend on average only $20 on music from the iTunes Store.
My other major issue with these ads is they don't highlight what's so great about Zune Pass. It's not just that you get a ton of music for only a little investment, but that you are truly freed from the limits of a regular music service when you use it. The ability to listen to a song and decide it's not for you, even before you download it is an eye-opening experience. Add in the personalized recommendations, integration with Zune Social (your friends), and 10 song credits a month and this may be enough to make people take a second look at subscriptions.
---