Wednesday, September 16, 2009
Posted by David Tucker in "Zune Accessories" @ 09:00 AM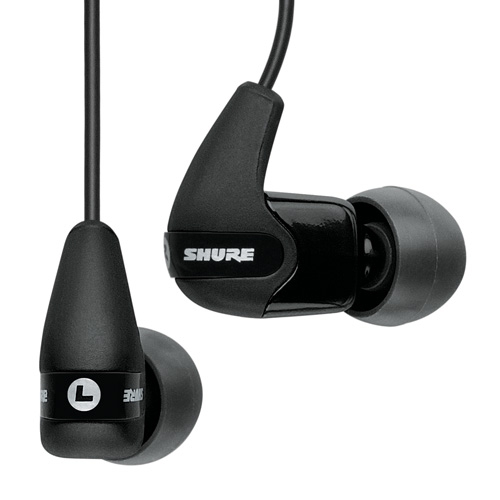 Product Category: Earphones Manufacturer: Shure
Where to Buy: Amazon [Affiliate]
Price: $97.78
System Requirements: Any MP3 player with a 3.5mm headphone jack
Specifications: Headphones have a frequency range of 25Hz - 18.5kHz with a 26 ohm impedance. They come in black or white and have an 18 inch cable with a 36 inch extension. The headphones pack up easily in a small travel case and come with a deluxe fit kit of 7 different tips to easily fit almost any ear size.
Pros:
Amazing sound, it blew me away;
Lots of fit options, ensuring a comfortable, tight seal;
High quality construction that should stand up to long term use.
Cons:
Somewhat expensive;
In-ear design takes getting used to.
Summary: No matter what you use as an MP3 player there is a universal law that applies to your device of choice. The included ear buds suck. Sure, there's different levels of suck, but in the end they're all pretty horrible. There was a brief period of time when the Zune came with the premium sound isolating earphones and those were certainly a step up from the usual throwaways you get. Still, to really appreciate your Zune or "other" MP3 player you only have two avenues to really get the most out of your music.
What's In The Box?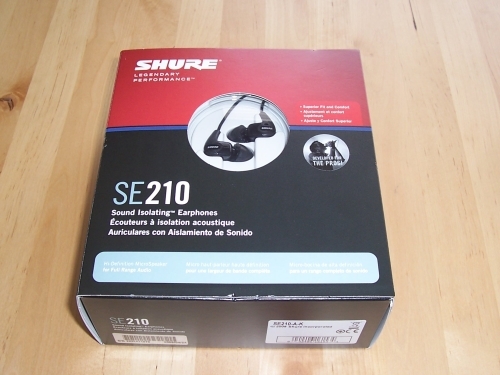 Figure 1: The unassuming box for the Shure SE210 headphones.
If you're using that "other" brand, your first avenue is to get a Zune. (I'm kidding!) No, what I'm talking about is depositing your freebie ear buds in the garbage and going to your retailer of choice and buying something that will really deliver music to your ears. I was going away on a long vacation a couple weeks ago and my Sony NC-40s had just bit the dust. I had to buy something before I left so I spent some time at Best Buy the day I was leaving and decided to splurge a bit and picked up a pair of Shure SE210s.
Shure is a name I've long associated with high quality sound. The SE210s aren't exactly new at this point as they've been out for around 2 years now. But the SE line is Shure's current consumer level earphone line, containing the SE110, SE115, SE210, SE310, SE420, and SE530. That's a lot! Let's start with what's in the box. Shure gives you a really good package with these earphones. In the box you'll get:
SE210 Earphones
3 sets of replacement foam earpieces
3 sets of replacement silicon earpieces
1 set of triple flanged earpieces
Extension cable
Cleaning tool
Carrying case
Now, if you can't find a way to get these earphones to fit with seven different options you probably have some tough to fit ears!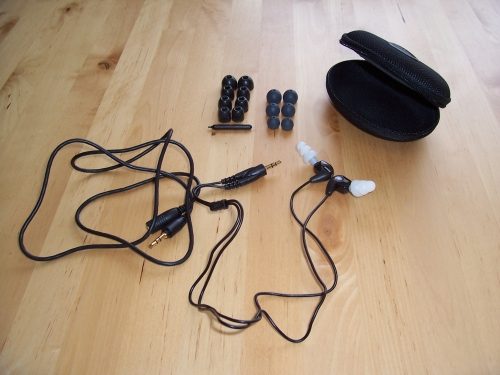 Figure 2: The headphones, all 7 sizes of earpieces, cleaning tool, carrying case and extension cable.
The extension cable is a bit misleading. The earphones really only have a short cord coming off of them that's about 18 inches long. The extension cable adds another 36 inches onto that for a total of 54 inches. Obviously the short cord isn't nearly enough in almost any imaginable situation so why would they do that? Shure split the cable so that you could, if you choose, add in accessories. The two options are a "Push To Hear" system and a mic to let you use the earphones with a cell phone.
The earphones are constructed out of hard plastic and a rubber covering. The cables are nice and thick, lending to the overall feeling of quality. The last two pairs of headphones I had both eventually needed replacing when their cables wore out. I really feel like these will withstand the rigors of daily use.
They can be worn with the cables hanging down or looped over your ears. I prefer the over-the-ear configuration since it makes it a little harder for pressure on the cables to pull them out of my ears. Since a tight seal is ideal with this style of earphone I find this gives the best listening experience.
A major concern I had when I bought these was comfort. I've never found ear buds to be comfortable. These aren't ear buds but the thought of having something stuck in my ears for long periods of time didn't seem like it could possibly be comfortable. I was wrong. This is the most comfortable set of earphones I've ever had. Even more comfortable than the supra-aural style I've always preferred up until now. I can wear them for hours with no discomfort.
So Shure gives you a great package for your money and I can wear them for hours on end. The question is, do I want to? All of this is academic unless these earphones deliver on their promise of high quality sound. Does Shure live up to its name? In a word, yes. Read on for my impressions on what the listening experience itself is like.
---