Wednesday, November 21, 2007
Posted by David Tucker in "Zune Hardware" @ 09:00 AM
"Earlier I posted that I was unhappy about not being able to use my original Zune Dock Cradle with the Zune 80. Well I got a comment from Keith that the folks over at Zune Scene had a suggestion in their forums."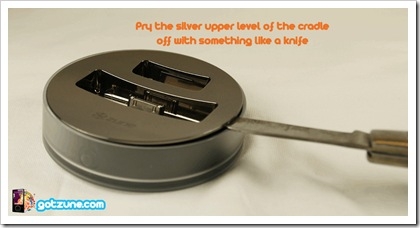 Trying to use your G1 cradle with your Zune 80? Well it appears that the folks over at
Zune Scene
got a little ambitious with their cradle and pulled it apart. Chris Leckness over at Got Zune? gave it a shot and he was able to sync away! If you have a G1 cradle and want to keep on using it,
head on over to check out how
. I think I'll just get the new cradle myself!
---