Monday, February 9, 2009
Posted by Adam Krebs in "Zune Accessories" @ 07:00 AM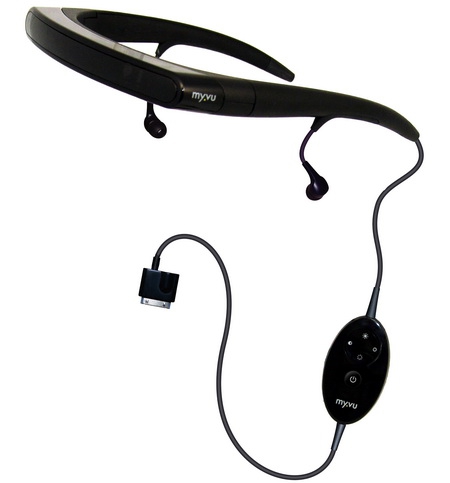 Product Category: Media player video accessory
Manufacturer: MyVu
Where to Buy: Amazon.com [Affiliate]
Price: $110 USD
Specifications: Glasses with 3:4 320x240 (QVGA) screen, 4 hour battery life, Ultimate Ears in-ear monitors with three different sized buds.
Pros:
Good for long, relaxed trips;
Ultimate Ears earbuds sound great;
Comes with cables for many different portable media players.
Cons:
Not very practical for day-to-day use;
Harder to watch during day flights;
Looks like something Geordi La Forge would wear.
Summary: The MyVu Solo Plus is hard to love. It's easy to like the idea of a portable, personal video screen, or the lure of a neck strain-reducing visor that handles all the typical problems associated with watching video on a tiny device. But in reality, the idea just isn't that well executed. Holding a Zune (or iPod, or Cowon, or any of the plethora of other players the glasses work with) at arm's-length has never been a particularly enjoyable experience, especially over an extended period of time, but this is where the MyVu glasses shine. They're light, portable, and good for long, relaxed trips where you would otherwise be sleeping or holding your player the whole time. Read more...
---